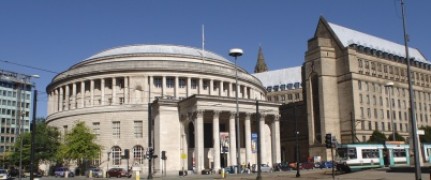 Commercial management Specialist Demolition Works Manchester Town Hall Extension.
DAPS provided commercial management support to Robore Cuts Ltd at Manchester Town Hall from September 2011 to October 2012. Robore are carrying out specialist saw cutting and demolition works on a Grade II listed public building as part of a major refurbishment project carried out by Laing O'Rourke. Robore use specialist plant such as robotic remote demolition machines. The works have been characterised by significant change to the original scope of works. DAPS have been engaged to manage the commercial aspects of this level of change to their contract.
Client 
Robore Cuts Ltd (click for website)
Dates during which the services were carried out
Services provided September 2011 to October 2012
Approximate Total Value of project
~ £750k
Testimonial
"Robore has found DAPS to be invaluable in increasing commercial recovery on projects. DAPS staff are flexible, courteous, professional and experienced. As such they represent excellent value. We would not hesitate to recommend their services to others" 
Robore Cuts Ltd– Andrew Dawson, Director
Description of the Services DAPS provided
DAPS use their commercial expertise to measure and value variations to the original work scope and produce detailed applications for payment. DAPS attend site to review and record works completed and identify constraints that effect the cost of works. DAPS understand the value of the good ongoing relationship that Robore have with their client and this informs the way that our services are delivered.
Value for money
DAPS have liaised closely with Robore to identify the level of support required to ensure optimum cost recovery on the job versus cost of support from DAPS. This is an on-going process and DAPS are flexible in increasing or decreasing support as the project requires. DAPS have used their commercial and management expertise to identify where additional costs should be applied to contract works due to changes in method or access as dictated by the main contractor. These are identified through site visits and discussion with operations managers, supervisors and operatives. These are valued through a combination of operative daily records, main contractor site records, contract rates and an understanding of the specialist work methods and practices. DAPS have used their adaptable and fully portable IT systems to allow scanning and transmittal of daily log sheets and record information when on site, and processing of worksheets when travelling to and from site. This ensures that the client gets full value for time spent out of the office.
In summary, this is an example of works carried out with a specialist contractor that requires detailed technical understanding of specialist works combined with broader commercial and contractual management skills. The project is also an example of a refurbishment of a public building. DAPS provide services to a range of specialist contractors and have experience of refurbishment works on  Train Stations, Underground Stations, Leisure Centres, Public Buildings, Shopping Centres and Private dwellings.