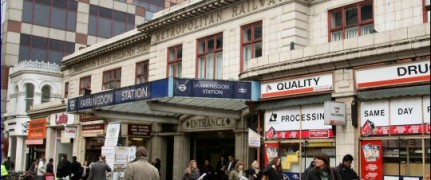 Underpinning of Grade II listed Facade at Farringdon Station
The works were undertaken to support the main Station Façade to Farringdon Station for Network Rail as part of the Thameslink upgrade project. Farringdon is one of the oldest underground stations in London being originally opened in 1863 as the Terminus to the Metropolitan railway, the first underground railway in the world. Existing cast iron riveted Girders spanning the Thameslink tracks had to be removed to increase clearance for new Thameslink rolling stock and equipment. These girders supported the existing Victorian Station buildings above. Abbey Pynford were engaged on a Design and Build basis to produce an underpinning scheme that would support the existing buildings while the existing girders and abutments were removed.
Client
Abbey Pynford Foundation Systems Ltd
Dates during which services were carried out
Services provided April 2011 – October 2012
Approximate total value of project
~ £1m
Testimonial
"Abbey Pynford's dedicated project manager delivered to the team all the necessary detailed assurance documentation and health and safety information to ensure a safe method of work was in place at all times"
Craig Macklin – Contracts Manager Abbey Pynford.
Description of the services DAPS provided
DAPS provided Project Management, Design Coordination and Site Management during the design and construction phases of this project. We liaised closely with the Principal Contractor, other Specialist Subcontractors, External Design Consultants, Network Rail and London Underground in order to gain approvals for design, coordinate design details and manage change. We produced all HSQE and design assurance documentation for the project. We were able to deliver the works to a challenging programme by devising and implementing a design assurance strategy that addressed the requirements of the different stakeholders involved in the project.
Value for Money
DAPS provided services on a flexible basis ranging from a few hours per week office support to providing multiple staff full time, some site based, in line with the changing demands of the project throughout its life. DAPS were able to use their detailed knowledge of Network Rail and London Underground HSQE and Assurance requirements to ensure that works were planned and approved in the shortest possible time.